Renewable Energy
_____________
Joli Drouin Farm 250kW Solar Rooftop
Renewable energy is no longer a secondary consideration for building projects, it has become a fundamental factor at reducing the carbon impact of buildings and energy generation.  It is also an essential component to Net-Zero or Net-Positive buildings.
Photovoltaics are simple solution that integrates well with flat or pitched roofs.  Photovoltaics may also play an important role in the proliferation of car charging facilities.  PV and storage systems are quickly moving from pilot to commercialization.
Arborus has assessed, designed, installed and verified over 100MW of renewable energy projects, including PV, solar thermal (water & air), small wind and biogas.  We have direct experience as a developer for utility-scale solar.  We have developed systems in Jasper National Park, Thousand Islands National Park, St-Eugene Ontario, and remote schools in Argentina.
Remote communities and facilities connected to diesel generators are prime candidates for integration of heat recovery systems and renewable energy systems to reduce fossil fuel consumption.  Low-load generators paired with renewables delivers the greatest savings in fossil fuels and GHGs.
Our experience with power generation systems includes remote communities, remote government facilities, containerized generators, combined heat & power, Biogas-electricity generation and the introduction of renewable energy and storage.
Reduce your reliance on fossil fuels to operate your buildings through integrated design strategies that include renewable energy sources and storage.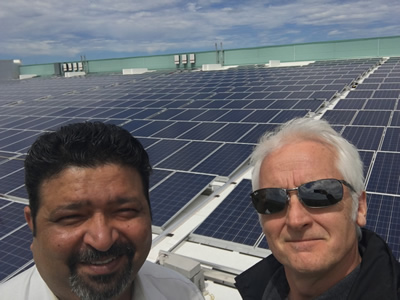 Sajeev Shivshankaran, Energy Manager Greater City of Sudbury & Robin Hutcheson of Arborus reviewing Countryside Arena 250kW solar rooftop installation